Being a Fitness enthusiast myself, I am always on the lookout to fitness abilities. Always wondering how I can push myself beyond. Looking at TV shows the American Ninja Warriors and Takishi's castle, I wondered if ever such events were organised in Mumbai. And as luck had it, one day saw an advertisement which said Devil's Circuit – Mumbai with an early bird 40% discount for Competitive Category. There was no thinking twice about it. The YouTube videos were all too exciting to watch and I quickly registered for the run.
I knew I was ready for it as I was regular at the gym and as was feeling good about my fitness. But also knew that the 5km was not going to be easy and it will require a lot of endurance and stamina.
With registration done and BIB collection too, was ready and waiting for 21 February, 2016. The day of the Devil's Circuit. The venue – far off from Mumbai @Hiranandani Fortune City, Panvel. But who cares.
Devils Circuit has two categories for participants – Competitive and Non-Competitive. Competitive runners are timed – this would be for more serious fitness freaks. Non-Competitive ones are not timed and for people who want to experience the run and have some fun.
Reaching the Event Venue
A task in itself. Be ready to get up early. 4.50 am in my case to reach the venue between 6:30 – 7:00am since my wave off time was 7:30am. But once you reach there it's a different experience, a different world altogether. Seeing all the arrangements done and feeling the vibe of the event, the music, people warming up, photographers ready to take pics of participants, there is a sudden adrenaline rush and you are just roaring to go.
Start of the Run
After a few warm-ups exercises and looking at the running course it was time to get ready for our run. We see the way Wave A participants went for their runs. The shouting and cheering for each other made us all the more excited. We were flagged off and we all went for the "run of our life".
Obstacles here we Come
As expected this 5km run was not going to be easy and after the initial run of a km the obstacles start. If you ever feel or expect that the starting obstacles would be easy and the last obstacles would be tough then you are wrong. Every single obstacle is a challenge in its own way.  Names are given for each obstacle which I have forgotten as I didn't take pictures of them. So naming them as I see fit. Since I was in the competitive category I had to make sure I completed each of the tasks since skipping any task would mean I didn't complete the race.
Obstacle 1: Jumping through even odd walls
The task was to jump through a 4 feet wall and then through a 7-8 feet. There were 6 of these. The first obstacle itself can tire you out.
Obstacle 2: Alternate Logs
There are coloured logs placed where in you have to go over the black log and go under the red log. Tricky task.
Obstacle 3: 8-10 Feet wall Jumps
This really tests your upper body strength as you have to pull yourself up till the wall and cross over it by using your legs, body or whatever and cross over it. This tires you like crazy – as crossing all three walls is an ability tester.
Obstacle 4: Slanting Platform Run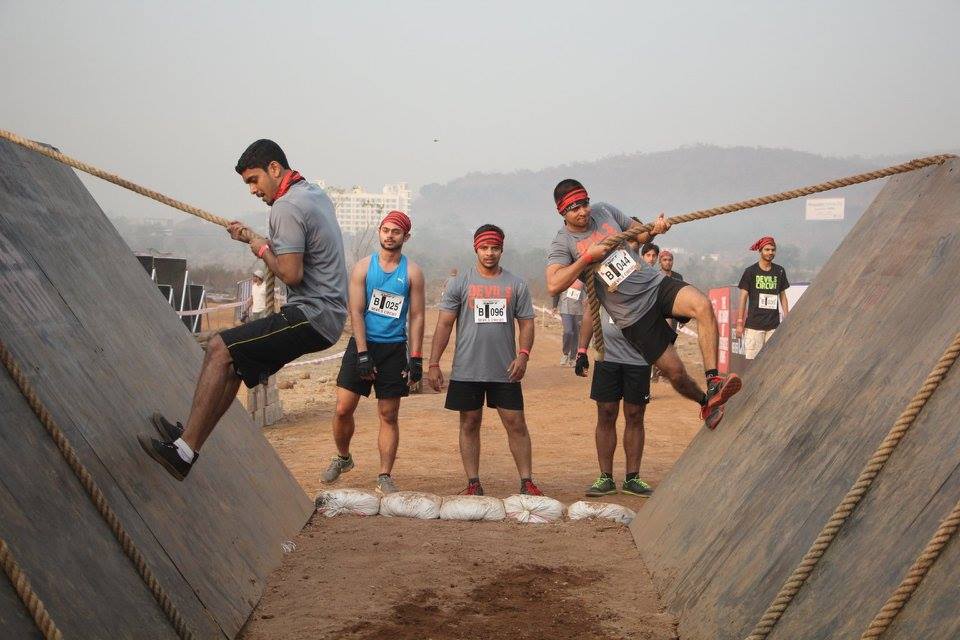 In this obstacle there is a Slanting platform which you have to cross using four ropes to help you stay on the platform, else you might slip and will have to do the task all over again.
Obstacle 5: Jumping the boxes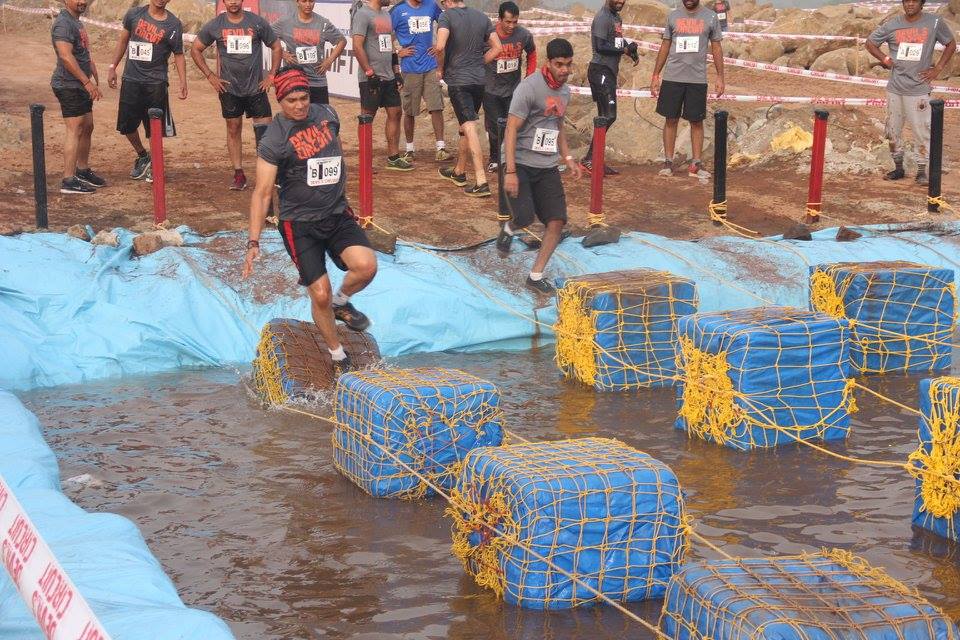 The toughest of all tasks in the whole circuit, only 2 people are said to have completed it. This has 5 thermocol boxes lined up which we have to jump on and cross the path. They changed the rules for this a bit and qualified those who could reach at least 3 boxes and even if they touched the 3rd box with the hand they qualified. I felt this would be at the end but surprise surprise.
Obstacle 6: The Rings Cross
After somehow crossing the boxes and starting to run, could see the next task. Crossing a pool of water by hanging from one ring to another. Real monkey business. This required lot of arm strength and focus.
Obstacle 7: The Military barbwire crawl
This was one of the easiest, as you just had to crawl through mud with barbwires above you and making sure you are just low enough that the barbwires don't scratch you. Expect to get a bit bruised on the knees.
Obstacle 8: Reverse Swim through Caged water
This obstacle looked pretty easy to me since we had to just go through water by holding on to a cage type thing above and dragging your body along. But the water got to me and it became very difficult for me as I ain't much of a swimmer. This left me gasping for breath most of the time.
Obstacle 9: Crawling through Rope Ladder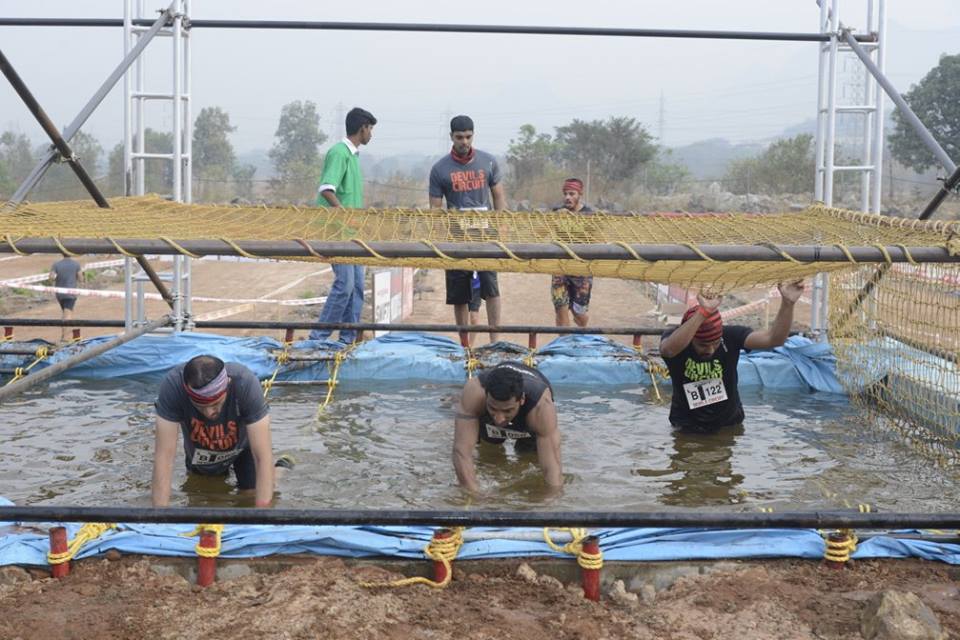 A rope ladder was half submerged in water and we had to crawl through it on our knees. Balancing on this one gets tough.
Obstacle 10: Rope Climb and Ring the Bell
In this you had to climb a vertical Rope which was about 15-20 feet high and get on top and Ring the bell and come down. Easy as long as you don't fear heights
Obstacle 11: Side ways Net Rope walk
In this obstacle, we had to walk side-ways on a net rope. Sounds easy right but with people walking simultaneously on the other side it can be tough with the net swinging.
Obstacle 12: Climbing Up and Down the Netted Ropes
This obstacle too had net ropes and we had to climb the net and then descend them also. What made it tough was there were three of them. Stamina being tested to the fullest
Obstacle 13: Diagonal Plates Jump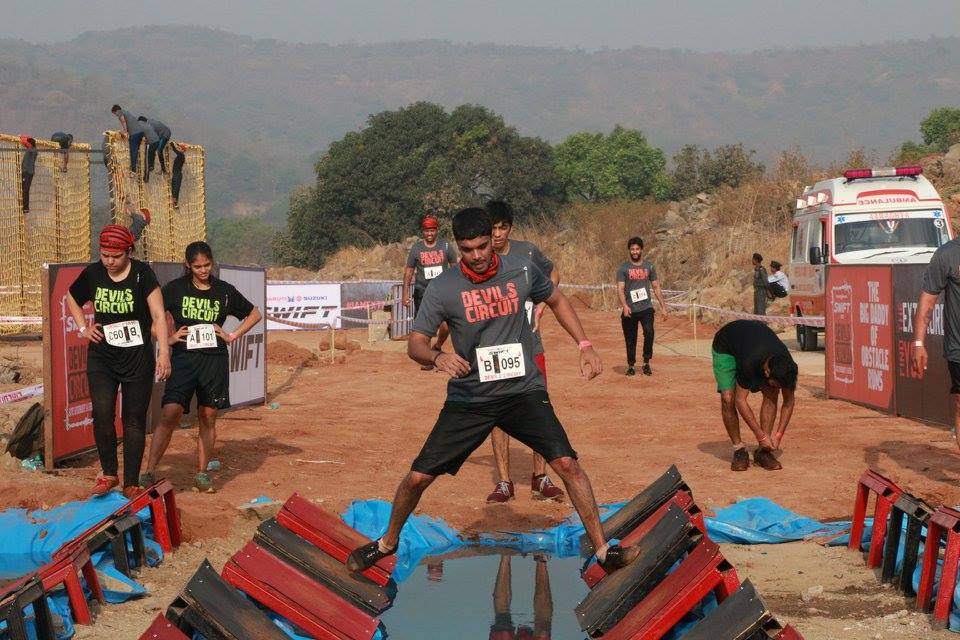 This obstacle had small squared steel plates in a 45 degree angle and we had to cross through them by stepping on each of the block that were placed diagonal to each other.
Obstacle 14: Wall Climb and Slide
You have to climb a slanting wall which has grips to help you climb it and once you reach the top all you have to do is to grab hold of a rod and slide down. Superb fun.
Obstacle 15: Brain Freeze (the Ultimate Finisher)
After the long gruelling run you come to the final obstacle where you have to get in a tub filled with Ice. Your feet get numb and as you progress through this you are almost frozen. It just makes it more tough and fun. Not only Freezes ur brains but many other stuffs too.
Finally reaching the finish line and collecting the Medal and the much deserved glass of beer and get photo clicked with the medal. Have to mention they had their photographers around 20-30 ofthem near each obstacle and around the course. Making sure every single runner was clicked. Never thought that an adventure sport can be soo much fun. Then there was DJ, zumba, Voleyball, Football, Crossfit training. Pulling the Maruti Suzuki Swift. All fun after the Run.
In all its an event to be part of. As i saw some real inhuman strengths on display looking at people with great agility and strength. Even women doing much better than men, so if you are women and feel this is not for you dont think so everyone can do it. There were people from the age range of 18 to 70 who participated in it. I sure am looking forward for its other event and will practise more to try to complete it in a good competitive time.
Check Out Devils Circuit
Website: http://www.devilscircuit.com/
Facebook: https://www.facebook.com/DevilsCircuit/
Twitter: https://twitter.com/@DevilsCircuit