A blog for a fashion designing Company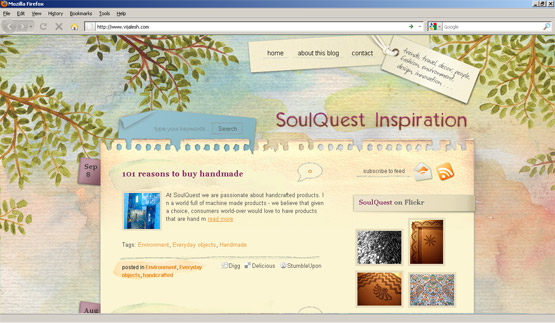 SOULQUEST  specializes in developing and sourcing fashion clothing and accessories from India. They had pretty neat site and they needed a blog to share the content related to fashion and the trends in fashion and clothing to the world. They gave me the design that they wanted and when i saw that design i knew i had a challenge in hand as it needed lots of CSS tricks.
Once i started with the CSS and HTML for it i learned a lot regarding CSS styling. Also made good use of Java scripts and Ajax. And after all the effort for around 2-3 Weeks the site was ready and i was really happy seeing this site live.
Client: Soulquest-Lifestyle
Website: www.soulquest-lifestyle.com/blog/
Technology used: HTML, CSS, WordPress (as a CMS)